Your company wants an IT partner who actively supports you in the digital transformation of your company and at the same time offers your employees - whether Digital Native or Digital Immigrant - the best possible assistance in dealing with a modern workplace IT? Ventoo is an IT partner for companies and organisations that already use modern workplace concepts or plan to switch to a modern IT work environment.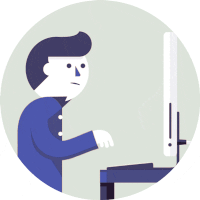 Explore the opportunities for your organisation
If you would like to get to know Ventoo as your IT partner, please do not hesitate to contact our team by calling +41 800 366 366 or by arranging a non-binding consultation with one of our Business IT Consultants.

Ventoo Wow IT Support
Ventoo offers a best-in-class IT outsourcing service under the label «Wow IT Support». This IT support service is characterized by the following core premises:
Second level first: Ventoo Service Desk Agents and Field Engineers are trained and highly qualified in the IT environment, allowing direct processing of incoming requests without delay by a triage.
Customer Centricity: Every customer inquiry is processed to the best of our knowledge and using best practices. The goal in each case is to trigger a «wow» reaction from the customer.
Seamless Integration: Ventoo wants to give the impression of an internal IT department. To achieve this seamless integration, the customer is equipped with the appropriate infrastructure (dedicated telephone lines, dedicated email addresses, installation of monitoring tools, etc.). This enables Ventoo to ensure that the customer's IT landscape is documented and can be accessed by the service desk at any time.